The Spread restaurant is happy to Spread Out into catering and bring our unique rustic industrial feel and extensive array of culinary treats to you. Whether at your home or office, for an intimate gathering of friends or a larger business affair, we are happy to offer up our distinct style of decor and food. Working to create your perfect event is our goal, from the tablescapes to the palates of your guests.
Cheers!
With sincere gratitude, Chris, Shawn, Drey, Chris
THIS IS A SAMPLE MENU AND SUBJECT TO CHANGE , DEPENDING UPON SEASON AND CULINARY CURIOSITIES.
Lamb Tartare
Hand cut lamb loin, preserved lemon and garlic aioli on a crostini
Cheeseburger Sliders
Grass fed beef, shaved lettuce, sliced pickles and aged sharp cheddar served on a potato roll
Crispy Pork Belly Bites
Slow braised crispy pork belly with a maple syrup and chili flake drizzle
Tuna Tartare
Hand cut tuna, fresh lemon juice, shallots and chives served on a potato chip with wasabi crème fraiche
Pickled Deviled Eggs
Hard boiled eggs pickled in beet juice with mustard, paprika aioli and fresh chives
Lobster Rolls
Traditional Maine lobster salad on a mini potato roll
Cured Salmon
Sugar, salt and vodka cured salmon served on a cucumber slice with garlic cream cheese and fresh dill
Beef Carpaccio
Thinly sliced grass fed beef with horseradish crème fraiche and micro arugula
Seasoned Shrimp over Quinoa Cake
Grilled seasoned shrimp over a seared caramelized onion quinoa cake, topped with chorizo sauce
Figs & Truffle Cream Cheese
Fresh figs with truffle cream cheese, shaved toasted almonds and fresh mint
Bacon Lollipops
Slow roasted applewood smoked pork belly, dipped in caramel
Crabmeat Crostini
Lump crabmeat with cilantro, jalapeno and fresh lime on a crostini topped with avocado
Grilled Cheese
Grilled brioche with gruyere and wild mushrooms
Fingerling Potatoes
Roasted fingerlings topped with crème fraiche and sturgeon caviar
Duck Meatballs
Pan roasted duck meatballs with cranberry sauce
Chicken Liver Mousse
Velvety rich chicken mousse crostini with shallot marmalade
Black Truffle & Risotto Balls
Truffle honey drizzle
Crispy Chicken Bites
Chipotle Aioli
Assorted Flat Breads
Chorizo, Charred Squid, Pickled Jalapeño
Goat Cheese, Wild Mushrooms, Truffle Oil
Smoked Ricotta, Arugula, Dried Tomatoes, Duck Confit
Brandade
Salt cod emulsion on toast point
Hamachi Crudo
Jalapeño, cucumber and lime
Blue Point Oysters
Beurre blanc, sautéed leeks and sturgeon caviar
Chorizo Crostini
Pan seared Spanish chorizo topped with a quail egg
Gazpacho Shooters
Seasoned grilled prawns
Maryland Blue Crab Cake
Garlic aioli or spicy mayonnaise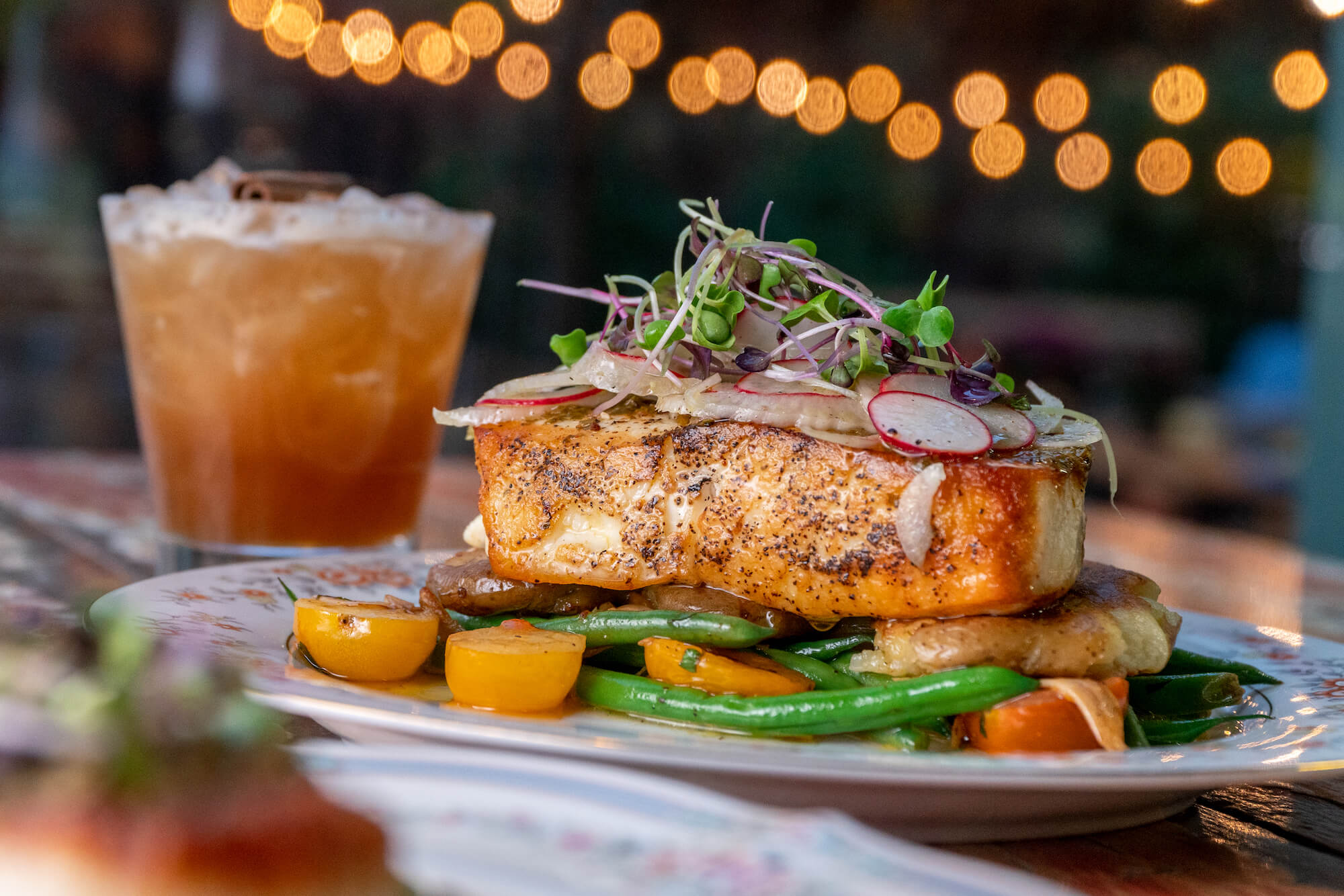 A selection of farmstead cheeses and cured meats served with house cured olives, country pate, selection of mustards country bread and homemade jams
Farmstead cheeses
Tarentaise
Tarentaise has been made by John Putnam from organic cow's milk at Thistle Hill Farm in Vermont it is a fairly firm cheese and is aged for at least six months.
Bloomsday
Bloomsday is drier textured than many other cheeses with a fabulous nutty flavor and addictive lingering aftertaste, aged for 6 months
Hooligan
Hooligan is a ripe washed-rind cheese with a soft creamy interior and a gorgeous orange rind, aged for two months
Drunk Monk
Hooligan rubbed in brown ale from Connecticut's Willimantic Brewing Company, the Drunk Monk is pungent and ripe with a slight hint of peanut butter on the aftertaste
Vivace Bambino
Vivace is sweet, chewy and moist, a medium mild cheese with a flavor like Swiss Emmental, aged 2 to 3 months
Womanchego
Womanchego is aged 3 to 4 months, making it more similar to a young Manchego than the aged version most commonly found in cheese shops. The flavor is medium mild and a tad sweet with hints of fruit and nuts
Dutch Farmstead
Creamy and mild with a slight nutty undertone and a rich, round, well-balanced flavor, the Dutch Farmstead is a variation on Gouda.
Black Ledge Blue
A natural rind blue with a gorgeous yellow color speckled with blue. Moderately creamy and medium strong with a rich, slightly earthy finish.
Cured Meats
Prosciutto
Thinly sliced prosciutto balanced in flavor between sweet and savory
Hot Coppa
Seasoned with chili pepper and paprika. It is similar to prosciutto, but it is derived from the shoulder rather than the ham
Salame Finocchiona
Salame Finocchiona is noted for its use of fennel seeds. Dry aged for 3-4 months. This sausage has a spicy flavor and is served in thick slices
Sopressata
Sopressata is Italian dry cured pork salami, flavored with red chili peppers, wine, and dried fennel
Country Pate
Hand crafted pate of duck and pork
Jamón ibérico
The texture is smooth and tender, the flavor soft and full of fat that dissolves in the palate.
Lardo
A unique nutty flavor, perfect on its own or paired with grilled bread, beans, or fruit.
Toscano
Robust flavor and mildly studded with fats for a superb texture.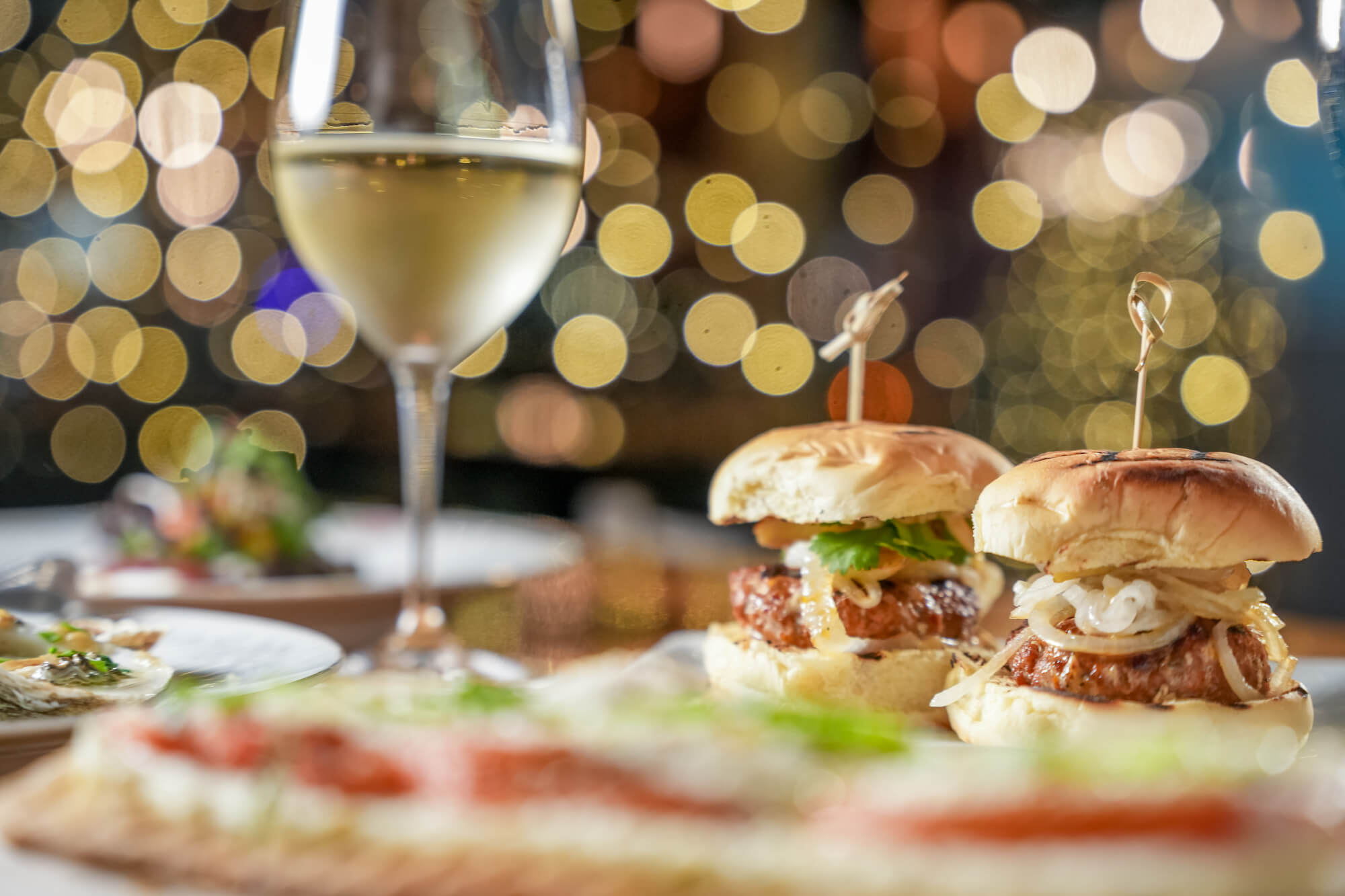 Served with fresh lemon, horseradish, cocktail sauce and mignonette sauce
One of our chefs would be shucking shellfish like a master
Bloom brothers in Norwalk would be providing our shellfish
Blue Point Oysters
Little Neck Clams
Stone Crabs
Crudo Station
Selection of fresh sushi grade fish sliced to order
Served with a selection of grapefruit, jalapeño and cucumber juices
Ceviche & Tartare Station
Selection of hand cut ceviche and tartare made to order
Seared
with almond foam
Lollipops
crusted in pistachios
Crostini
Armagnac soaked prunes
Shaved
Mandarin orange segments, candied pistachios
Carving Station
Sliced Prime Rib
Or
Filet Mignon
Served with a selection of mustards, horseradish, warmed country bread and natural jus
Corn tacos served with a selection of fillings
Fillings
Carne Asada (Beef)
Red snapper
Chicken
Slow Roasted Pork
Beef Tongue
Pork Belly
Quesadillas
Filling choices as above
Beef, Vegetable and Chicken Empanadas
Corn on the cob with cotija cheese and paprika
Coleslaw
Lime and Mango
Jalapeno corn bread with lime butter
Dip Station
Guacamole Station and House made Chips
Assorted Salsas: Pico de Gallo, Salsa Verde, Pineapple Salsa
Family Style Pig Roast
Option 1
2 hogs slow roasted on a spit
Option 2
1 hog and 1 lamb slow roasted on a spit
Large platters served family style
Grilled Corn Salad
Coleslaw
Grilled Seasonal Vegetables
Summer Salad with Local greens, goat cheese, pears, mango, pineapple
Sport hill farm kale salad with feta, avocado, roasted pignolis and our house dressing
Caprese salad, fresh hand stretched mozzarella, heirloom tomatoes and spread garden basil and
Aged balsamic or Heirloom Tomato Salad
Grilled vegetable and quinoa/fregula salad
Arroz y frijoles
Baked potatoes
Toasted corn tortillas
Endive with walnut and crème fraiche
Steamed lobster over micro greens with lemon truffle oil and walnuts
Grilled endive, radicchio, arugula and porcini mushrooms
Baby lettuce with aged white balsamic with blue cheese and walnuts
Local cabbage with truffle and hazelnuts
Frisée salad with honshimeji mushrooms, bacon vinaigrette and poached egg
Marinated beets with honey goat cheese, arugula and walnuts
Iceberg wedge with blue cheese, bacon and avocado
Persian cucumber salad with shallots and dill
Marinated beets with mascarpone cheese, mandarin oranges and pistachios
Lemon preserves couscous with green olives
Cannellini white beans with cilantro and ghee
Anson mills polenta
French lentils with smoked ham hock
Forbidden black rice with faro, pomegranate molasses
Herb roasted fingerling potato
Baked asparagus with gruyere
Grilled Portobello with balsamic glaze
Fregula with tomato and olives
Wax beans with lemon brown butter and toasted pine nuts
Tarragon tri color roasted beets
Sautéed garbanzo with asparagus tops and roasted garlic herb sauce
Coco beans in tomato sauce and saffron
Mashed potatoes with taleggio cheese
Steamed spinach balls with roasted garlic and roasted red peppers
Sweet potato noodles
Crispy Brick Chicken
Rustic Grits, green salad and white wine lemon sauce
Seared Pork Chop
Black Beans and Romesco sauce
Grilled Hanger Steak
Duck fat potatoes and porcini butter
Grilled Skirt Steak
Chimichurri sauce and fries
Flame Grilled Swordfish
White beans, chermoula and spicy yogurt
Lamb Saddle
Wild mushrooms, brussel sprouts and black garlic puree
Sweet & Sour Duck Breast
Parsnip puree, bok choy and baby carrots
Grilled Queen Prawns
Tomato fregula and green olives
Hand Crafted Gnocchi
wild mushrooms or sage velouté and braised veal
Hand Crafted Tagliatelle Verde
Bolognaise and ricotta cheese
Artisan Risotto
Vegetarian option available
Traditional Paella
Chicken, chorizo, calamari, clams, shrimp and mussels
Roasted Seasonal Fish
Coco beans and tomato pesto
Braised Short Ribs
Potato puree, roasted root vegetables and red wine reduction
Tender Roasted Ribs
Bordeaux and caramelized braised shallots